Building a business online is not an overnight, get-rich-quick fix. Perhaps you may have been burned by all the fluff and hype ads that come at you every day on the internet.
Buy this here.
Do this there.
Make money over here without doing a thing.
Just download and get the money with no effort.
I see them all the time, so I know.
I also know what is online success because I have achieved it. Of course, I am young in the game and still building and growing BUT, with the right training and support, I was able to learn how to effectively start the journey and become an Online Entrepreneur.
In this article, I will share with you how 1 year online changed my life.
The process I am referring to isn't anything like those quick fixes.
Sure, you have also seen all the guys and gals with their bling things – the cars, the houses, the lifestyles, living it up and promising you that the same will happen to you if you give them your money.
Well, this isn't anything like that. I assure you.
There is no fooling around here. This is serious business that requires serious effort from you, from the first day.
I Wanted A Different Lifestyle
---
A little over a year ago, I was tired – very tired – of the 9-5, corporate fight. It all seemed to be getting more tiring. It felt like punishment to have to get up every morning to go to work for with and for people who showed little appreciation for me or my contributions.
Added to that was the traffic, the corruption, the mundane work, the burden of carrying people who just weren't pulling their weight, the lack of time to care for myself and my family, the diminishing joy.
I desperately wanted a different lifestyle.
In 2019, I made up my mind that I had enough of it all and I began my search online to find the best way to do this.
One Sunday evening, while searching for coffee, I discovered Wealthy Affiliate (WA) and, as they say, "the rest is HISTORY!
I immediately signed up as a member, (for free), and began my training with WA's first 10 lessons.
I Started at Ground-Zero
---
Finding WA was a game-changer and a blessing.
Was I distrusting? Hell yes!
I joined as a Starter (FREE) Member, spending no money and using no credit card. I had to figure out if this was genuine.
Within a couple of weeks, after nights of devouring training, I could tell that WA was unlike anything that I had ever encountered online. Yet still, I simply took the opportunity to invest in the discounted monthly Premium Membership fee of $19.00 (US). That was an amount that I could afford to lose.
That $19.00 gave me 1 month of WA's Premium Membership which included full use of everything the platform offered.
I knew nothing about Content and Affiliate Marketing, or any of the other elements that make it all come together.
By the end of the first 10 lessons in the Online Entrepreneur Certification, (OEC), course, however, I was clear that this was genuine and could be exactly what I was looking for.
I had only paid 1 month's Premium Membership when WA's Annual Black Friday Sale rolled in. Immediately, I capitalized on it and made the investment for 1 full year of Premium Membership.

My 1st Year was REALLY Tough
---
As I look back now, "tough" seems like an understatement. I was determined to learn as much as I could and make my investment pay off. More than that, I was hell-bent on getting out of the corporate rat race. I wanted my freedom.
My first year was not easy. I was still working full-time, single-parenting my daughter and doing all the other things in life that are required to get through it.
Related Article: How To Become An Expert In Your Field
In spite of all that – or maybe because of it – I made the sacrifice and invested the time required to learn how to build my online business. I had no expectation that this would happen as quickly as it did. I believed that if I followed the training and learned from the successful WA Community members, I would achieve success also.
So:
I completed the entire OEC course, 3 times.
I became a Certified Commenter.
I became an Ambassador.
I never missed a Friday night date with Jay for his weekly webinars.
I wrote over 250 blogs.
I read and commented on as many blogs from Members as I could.
I worked through what felt like hundreds of training.
I researched keywords and built my lists.
I built 3 niche websites.
I answered questions.
I asked questions.
I launched my personal WA brand.
I made tutorials.
I made friends – all over the globe.
It definitely wasn't easy. I forgot what an 8-hour night rest felt like. BUT, I persevered and I pushed through.

Then Preparation Met Opportunity
---
I am not a believer in luck.
Luck happens when preparation meets opportunity. That is my belief. If you have not prepared yourself by doing the work you will miss out on the simplest of opportunities.
Slowly but steadily, as I built out my streams of income online, I started to see earnings emerging. Today, you may see me and call me lucky but it is not luck at all.
I worked hard – REALLY hard – to get to this point.

I am very grateful that today, as I write, all of my income streams are earning me income. Yes, income STREAMS. I do not have just 1 income stream and that is one of the most incredible aspects of building a business online.
Related Article: What Is Overnight Success? How To Achieve It Online
My earnings are spread across:
Consulting retainers – for content and training.
WA – for tutorials and comments.
WA – for domain and website hosting
Affiliate Programs – with a growing product and service base
Domain investments
Google AdSense
WA Brand for MMO, Cassi Of Troy
Managing websites
Income is steady as you can see from one of my recent WA commission trackers below: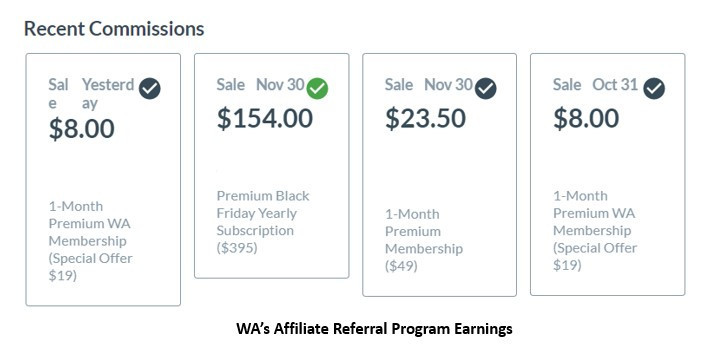 I am especially proud of these earnings because they are a direct result of my WA blogs and prove that you can build a successful MMO business even without your own domain website.

You Will Get Back What You Put Out – And More
---
Have you ever heard about GIGO? Garbage In-Garbage Out?
I first learned the term back in the 80s as a Systems Analyst & Programmer. It simply means that if you put poor data into the computer, you will get poor, unreliable results to work with.
GIGO applies today as well. What you do online – how hard you work and how much you learn – can hurt you or help you.
WA training works! There is no doubt about that.
However, there is a proviso. It will only work if you work it and, the value of what you get is directly related to your effort and yours alone.
This is a system with many moving parts. No different to anything else in your life. You cannot expect to start at WA and think that things will magically happen for you overnight. Building an online business, any business for that matter, requires that you invest.
You must invest the time and effort that is required if you want to receive success. Give to get.
Once you do, I am a testimony to the fact that success WILL befall you. And, if you remain committed and true to yourself, working diligently and consistently, GREAT success WILL be yours.
The year has just begun. Make a commitment to lay your foundation NOW for great success tomorrow.
---
Click here if you would like to learn more about becoming an Online Entrepreneur and start for FREE today.
---
CASSANDRA PATROVANI
---
This is home to two (2) world-travelling, youthful, life-loving and committed Caribbean women – Cassi, a Baby Boomer Dragon Gemini preparing to transition into being a full-time Online Entrepreneur/Writer/Photographer and, Zafi, a Generation Alpha Tiger Aquarian who has already found her life passion in the realm of dance and music.
Together, we discovered Affiliate Marketing and now enjoy building and growing our lives full of genuine community, learning, support, networking and earning – on our terms and at our leisure.